FERRY-CAPITAIN, is more than 40 years of design excellence heavy industry gears manufacturing and installation, for different applications mineral processing, cement, steel, oil sands, chemical, food, etc...
We design and manufacture ring gears & sprocket heels of all sizes up to 16,000 mm outside diameter. To date, more than 2,200 steel rings and more than 1100 cast iron GS and FerryNod® rings, a grade developed and patented by FERRY-CAPITAIN, have been manufactured in our factories.
AVANTAGES :
FERRY-CAPITAIN has a team with specialized engineers to analyse installations by means of visual examinations, footprint, teeth temperature measurements, vibration analysis.
FERRY-CAPITAIN ensures the spares parts interchangeability doing a series of dimensional checking on the original equipment.
Ferry- Captain with CMD their Engineering Departments and their finite-element design software, are able to size all gears according to its own experience and following the world standards (AGMA-DIN-ISO).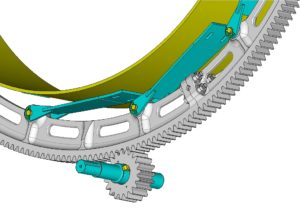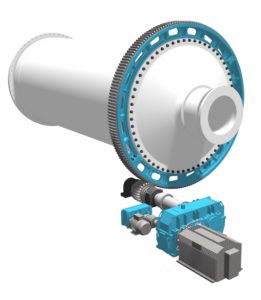 All needed assistance is provided, in full collaboration with CMD Gears, part of Groupe CIF, such as: installations analysis, on-site dimensional checking, load capacity calculation, definition and optimization of product design and materials, ring-gear parts bolts resizing (in half or quarter), manufacturing from model to packaging, control with test machine meshing if required, on-site assembly and maintenance assistance.
Bearing lifetime installed on the pinion(s) is also calculated and considered.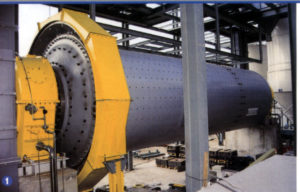 We work on site before design, thanks to the FC Services department, whose technicians work all over the world.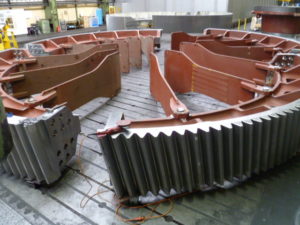 FERRY-CAPITAIN réalise tous types d'engrenages à denture droite, hélicoïdale et à chevrons.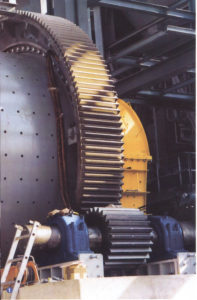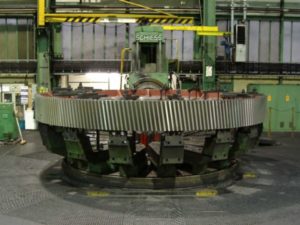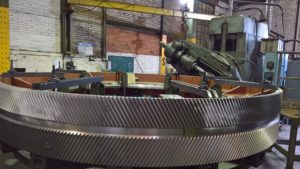 Manufacturing and Implementation
Modern equipment, forming and casting methods ensure a high-quality of materials produced in our foundries. Machining and cutting tools guarantee quality requirements in realised parts.
FC Services technician division ensure maintenance and customer support by managing the supervision during the assembly and commissioning of the facilities.
- Heat treatment: 12 m x 6 m x 3.5 m or Ø 9 m
– Turning : 16 m
- Bore: 16 m x 3.5 m
- Size: 16 m - 60 mm module